10 Best Neighborhoods Buy a Home in Greensboro 2021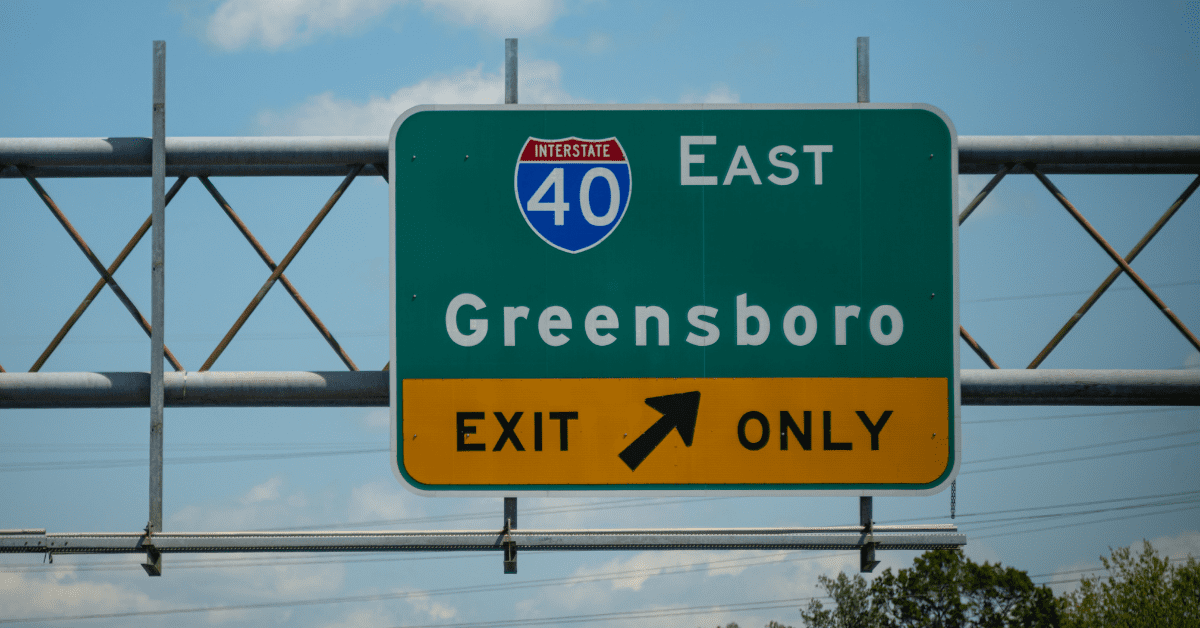 If you're moving to Greensboro, NC, this year, you'll need to pick out a house. But before you can pick out a house, you need to pick out a 'hood.
Gate City, as the locals call it, is home to a diverse range of neighborhoods. Each one has unique benefits, from access to the outdoors to walkable eateries. There's really no wrong answer, but with our guide to the best places to buy a home in Greensboro in 2021, you're sure to find a house that's just right for you.
Table of Contents
Downtown Greensboro
Looking for a slice of the city life? Then Downtown is for you. The central area of Greensboro has experienced a revitalization over the past 20 years, and residents get to reap the rewards. Think walkable access to buzzy restaurants, locally owned shops, and parks, like the modern LeBauer Park.
You'll have a quick commute to the best the city has to offer if you live in Downtown Greensboro. Try local favorite Blue Denim for Cajun cuisine, or eat funky tacos at Crafted. When family comes to town, take them to the International Civil Rights Center & Museum.
Looking to buy a home in Downtown Greensboro? There are plenty of refurbished apartments and new-build condos waiting for you.
Fisher Park
If you want the accessibility of downtown living without the headache (or just with a yard), consider Fisher Park. This neighborhood is a stone's throw from Downtown Greensboro, but it's centered around a 12-acre park that shares its name.
Locals love Deep Roots Market, a Fisher Park co-op offering fresh, organic produce and other grocery store goodies. You'll be able to walk home if you enjoy one too many in-house brews or seltzers at Joymongers Brewing Co.
If you decide to buy a house in Fisher Park, you'll have a broad range of historical homes to choose from. The neighborhood is on the National Register of Historic Places, thanks to homes that date back to the 19th century.
Westerwood
Westerwood is a creative hub in Greensboro, NC. Like Fisher Park, Westerwood's proximity to downtown makes it a great 'hood. It's also close to the University of North Carolina at Greensboro and Greensboro College, two of the city's five universities.
Westerwood residents enjoy easy access to the 80-acre Lake Daniel Park and its 2-mile Greenway. Once you've worked up an appetite, walk over to Bandito Bodega for Asian fusion like burritos and banh mi.
If you're ready to buy a house in Westerwood, Greensboro, you'll get to choose between Craftsman-style bungalows, Colonial two-stories, and romantic Tudor cottages. Most of these historic homes boast charming details like hardwood floors and built-in bookcases.
Lindley Park
Living in Lindley Park is a little like living in a fairytale. Enjoy tree-lined streets, stone-arched bridges, farmers markets, and two sprawling parks.
Lindley Park's neighbors love to gather on their wide front porches or at community events like Easter egg hunts and oyster roasts. For many, walkability to a great brunch destination is at the top of their list, and Scrambled delivers with Southern-style breakfast staples. Another neighborhood gem, Hops Burger Bar, has one of the best burgers in the country, according to Business Insider.
Because the neighborhood dates back to 1917, you'll have your choice of historic homes if you decide to buy a house in Lindley Park. Craftsman-style bungalows line the neighborhood's streets, offering ample outdoor space to gather with friends.
College Hill
If the Keep Austin or Asheville Weird bumper sticker is beginning to peel off your car, consider replacing it with a College Hill sticker. This neighborhood near downtown and the University of North Carolina Greensboro offers an eclectic home for college students and creatives.
Tate Street offers a microcosm of College Street's cool, with a bohemian feel and mainstays like Tate Street Coffee House and award-winning vegetarian restaurant Boba House. If a local brewery is on your neighborhood must-have list, check out Oden Brewing Co.
Buying a house in College Hill can be tricky with the competitive market. Local homeowners get to live in well-preserved 1800s homes with styles ranging from Queen Anne to Greek Revival.
Dunleath / Aycock
Like its neighbor Fisher Park, Dunleath (formerly known as Aycock) was designed around a park, Sterberger Park. But its community-centric culture might bring to mind Lindley Park. In the summertime, different locals host Lawn Libations on their front lawns, and the whole neighborhood is invited.
Locals might like to catch a game of North Carolina A&T University baseball at the historic World War Memorial Stadium, one of the oldest stadiums in the country. You can shop local year-round at the Greensboro Market Curb Market.
Ready to buy a house in Dunleath? The neighborhood was developed in the late 19th and early 20th century, so many of the homes offer historic curb appeal and charm.
Glenwood
To the south of Downtown Greensboro and College Hill lies Glenwood. This revitalized neighborhood is home to all sorts of residents: retirees, college kids, artists, and young families.
Locals love to swing by 42 Fry for fried fish and sides. Pair it with a local brew from nearby Oden Brewing Co. Living in this neighborhood offers easy access to other 'hoods around Greensboro and their wide range of amenities.
Buying a home in Glenwood is a great alternative for many first-time buyers. You won't be met with the same competition as neighborhoods like College Hill, but you'll get many of the same perks, like historic bungalows.
Old Irving Park
Just north of Fisher Park, this neighborhood was built around the Greensboro Country Club. That makes it one of the earliest communities with a golf course included in its plans.
Alabama favorite Taco Mama recently expanded to Old Irving Park, and locals love to drink margaritas under the restaurant's glowing Christmas lights. Of course, it's still the Greensboro Country Club that draws many residents, especially its Donald Ross-designed course.
Old Irving Park offers a little more land for homebuyers. Historic homes with Colonial, Classical Revival, and Tudor architecture abound, as do starter homes like brick ranches.
Summerfield
With rolling hills and dense woods, Summerfield feels rural but offers easy access to Greensboro's big city amenities with a 20-minute drive.
The town is home to a gaggle of parks, including Summerfield Community Park, with walking and biking trails, playgrounds, picnic shelters, fishing, and more. While Summerfield eschews most commercial development, you will find local haunts like Godino's Bakery & Coffee House.
If you're looking to buy a house with a little land and an easy commute to Greensboro, Summerfield provides. Houses range from modest ranches to modern estates, but they almost all promise sizable lots.
Hamilton Lakes
On the western side of Greensboro is Hamilton Lakes. Developed after the success of Irving Park, a golf course also sits at the center of Hamilton Lakes.
Like many of the other more suburban locales on our list, Hamilton Lakes has intentionally limited commercial development. That means locals enjoy peaceful amenities like the 60-acre Hamilton Lakes Park. It's only a quick jaunt to favorite eateries like the retro Carolina's Diner.
You'll have a large selection of houses to choose from if you want to buy a home in Hamilton Lakes. Choose from historic homes, including some mid-century marvels, large ranches, and more recent builds.
Buying a Home in Greensboro
Next Steps
Get a leg up on your house hunting. Read up on the difference between pre-approval vs pre-qualification. That way you can quickly put in a credible offer when you find your dream home. 
Having a hard time finding a listing? Try these six non-traditional methods for finding a home BEFORE it hits the market.
Whether you're ready to call College Hill home or want to invest in Irving Park, Dash can help. We're North Carolina's hometown mortgage lender, and we make buying a house in Greensboro easy.
Contact us today and we'll set you up with a dedicated Mortgage Coach. They'll help you navigate the sticky straits of mortgage lending. Together, we'll make your Greensboro home dreams come true.