Mortgage Lenders in Raleigh, NC
Are you looking for a mortgage company in Raleigh, NC that you can trust to help you buy a new home? Or maybe you want to refinance your existing loan into one that offers more affordable monthly payments? That's where Dash Home Loans comes in!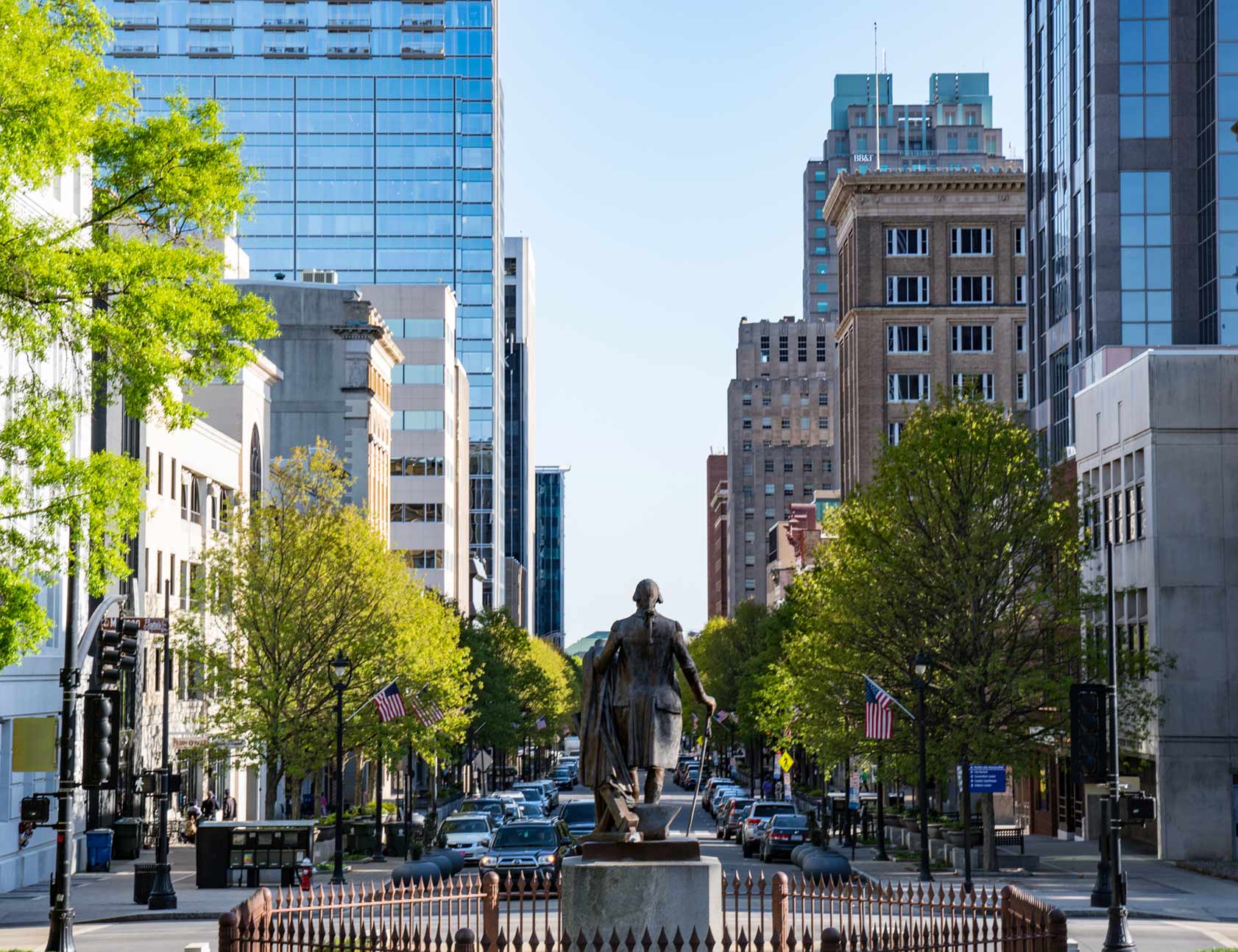 Dash Home Loans' Raleigh, NC Mortgage Office
There's plenty of parking at our Raleigh office for those who want to come in and speak with a Dash Mortgage Coach about our home loan services3 or mortgage refinancing4 options.
Our Raleigh mortgage office services all of Raleigh and the surrounding area. Our team provides home loans to residents throughout North and South Carolina – with another convenient Charlotte office to better serve you.
---
Call us
Visit us
712 W Johnson St
Raleigh NC 27603
We're open...
Monday to Friday: 9AM – 5PM
Saturday & Sunday: Closed
Home Loans & Mortgage Refinancing in Raleigh, NC
As one of the best mortgage companies in Raleigh, North Carolina, Dash Home Loans provides full-service home loans for new purchases and mortgage refinancing services. Get the best of Dash's comprehensive home financing services, including:
Soft credit pulls
Pre-qualification assistance
And more!
As a division of Primary Residential Mortgage that's dedicated to serving North and South Carolina, we have the resources of a big lender with the personalized attention of a local company.
Ready to get started? Reach out to us online or call us at 919-891-8705 to schedule a consultation.
---
---

Everything we provide will help ensure you understand what your mortgage will look like, what you need to consider (such as mortgage insurance), and what that means for your finances on a monthly and yearly basis. In short, we want you to be both excited and prepared – for your finances, for your new home, and for the next step in your life.
---
Home Loan Options for Raleigh Homeowners
Our Raleigh Mortgage Coaches will guide you through the entire home lending3 process, including helping you choose the right loan for you and your specific situation. Dash offers over a dozen types of home loans to help ensure there's something available that fits your needs – whether you're a first-time home buyer, an experienced home buyer, or a unique home buyer. Check out our options:
---
Dash treated us like a person and not like a number. They worked long and hard to get us the home of our dreams I am thankful for the experience we shared.

— Brett, Home Loan customer
---
Mortgage Refinancing in Raleigh, NC
Are you are tired of paying a high monthly mortgage payment? Do you want to take out some equity to make home repairs? Let Dash Home Loans help you with mortgage refinancing.
Refinancing a mortgage in Raleigh, NC doesn't have to be complex. You'll find Mortgage Coaches are readily available to help you learn more about your options – including what you can expect in a new loan payment and closing costs.
Benefits of refinancing your mortgage4 include:
Lower monthly payments
Reduced interest rates
Opportunity to tap into your equity
Debt consolidation
If you are thinking about home refinancing in Raleigh, we encourage you to reach out to us today. We'll answer any questions, and get the process started right away!
---
Such a great experience – by far the smoothest and simplest refinance I have ever had! Seamless, easy-to-use technology and highly experienced and professional staff. I won't use anyone else!

— Mandy, Refinance customer
---
The Dash Mortgage Process for Raleigh Homeowners
You should feel completely confident in your home loan, with no reservations or concerns that your loan will fall through at the last minute. That's why we've sent the old home loan process out with the trash and started a new one – one without the middleman (i.e., inefficient loan processors).
When you apply for a home loan through traditional processes, there's a lot of back and forth – not to mention the possibility that your loan will fall through at the last minute. With the Dash home loan process, there is no processor. You work directly with one of our expert Raleigh Mortgage Coaches who will go to bat for you.
The Dash home loan process consists of just three simple steps:
Apply now
---
Legal information
¹ Dash Loan Closing Guarantee Disclaimer: Guarantee is based on loan closing; restrictions apply.
² No-Down-Payment Disclaimer: Closing costs and fees may still apply.
³ Lending Disclaimer: Mortgage rates are subject to change and are subject to borrower(s) qualification. APR rate(s) quoted is/are based upon a (loan amount), (loan term, including whether fixed or ARM) year.
⁴ Refinancing Disclaimer: When it comes to refinancing your home loan, you can generally reduce your monthly payment amount. However, your total finance charges may be greater over the life of your loan. Your PRMI loan professional will provide you with a comprehensive refinance comparison analysis to determine your total life loan savings.
⁵ VA Home Loan Disclaimer: VA home loan purchases have options for 0% down payment, no private mortgage insurance requirements, and competitive interest rates with specific qualification requirements. VA interest rate reduction loans (IRRRL) are only for veterans who currently have a VA loan – current loan rate restrictions apply, and limits to recoupment of costs and fees apply. VA cash-out refinances are available for veterans with or without current VA loans. Policies and guidelines may vary and are subject to the individual borrower(s) qualification. Program and lender overlays apply.
⁶ Down Payment Assistance Disclaimer: First lien interest rates may be higher when using a DPA second.
⁷ Pre-Approval Disclaimer: Pre-approvals are given to clients who have met qualifying approval criteria and specific loan requirements at the time of applications. Results may vary.
General Disclaimer: The content on this page has not been approved, reviewed, sponsored, or endorsed by any department or government agency.
NMLS® Consumer Access℠: https://nmlsconsumeraccess.org/
North Carolina Mortgage Branch License: L-112833-200
South Carolina-BFI Branch Mortgage Lender/Service License: MLB-1439905, MLB-1439905 OTN #2