New Home Construction Projects in Wilmington, NC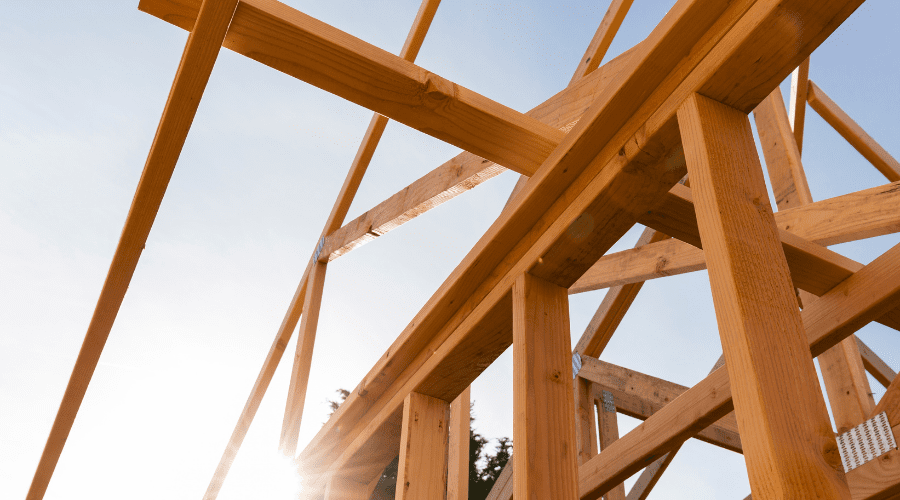 More and more city dwellers are flocking to quainter oases like Wilmington, NC. With remote work flexibility or early retirement, folks are choosing beachside communities to spend their days working from home and their weekends relaxing on the waterside.
That means the housing market in Wilmington is more competitive than ever. Buyers are scrambling to submit offers within hours of a listing, and even then, their efforts lose out to higher offers.
That's why more and more Wilmingtonians are turning to new homes instead. With plenty of new neighborhoods and new houses on the horizon, your dream home awaits—it just hasn't been built yet.
Plan ahead and start exploring the area's up-and-coming neighborhoods.
Brunswick Forest
Leland, NC
Single-family homes & townhomes
Price Range: $366,300–$700,000+
Amenities: Shopping, dining, golf course, parks, nature trails, pool, fitness centers
Just 10 minutes from downtown Wilmington and 30 minutes from sandy beaches, Brunswick Forest is all about convenience. But with its own town center (including dining and shopping), a golf course, fitness centers, a pool, and parks, nature trails, and creeks spread across 4,500 wooded acres, why would you ever want to leave?
You can buy a land/home package and get started with one of Brunswick Forest's preferred builders, or you can buy a land parcel and build later. They might even have some new homes available now.
St. James Plantation
Southport, NC
Single-family homes & condos
Price Range: $405,100–$700,000+
Amenities: Marina, beach club, parks, walking/biking trails, dog parks, tennis, pickleball, golf, dining
While the neighborhood was established back in 1991, there are still plenty of new homes to be had around St. James. The sweeping neighborhood covers 6,000 acres of coastal lands and plenty of ways to enjoy them, from kayaking on the local waterways to walking the miles of trails.
There are waterside and golf-view home sites available, and several portfolio or custom builders to tap for your new build. There are also existing homes hitting the market all the time, and you might get lucky with a move-in ready purchase!
The Lakes
Oak Island, NC
Single-family homes & condos
Price Range: TBA
Amenities: Clubhouse, tennis, dining, lagoons, pool, walking trails
Directly adjacent to St. James Plantation will be a new development, The Lakes, with 950 homes. While it will feature the usual amenities—tennis, pool, dining—it will also feature "the Crystal Lagoon," a freshwater, sandy lagoon with a unique filtration system. The property is situated on a 1,200-acre nature preserve, and with a community farm and walking trails, the outdoors will always feel accessible.
While the community has been approved, there aren't parcels available quite yet. You can reach out for more information and to add your name to a waitlist.
The Bluffs on the Cape Fear
Leland, NC
Single-family homes
Price Range: $405,500–$520,000
Amenities: Marina, beach club, walking/biking trails, tennis, pickleball
Tucked into a curve of the Cape Fear River, this gated community offers a swanky waterfront lifestyle for residents. It's a quick 15-minute drive (or boat ride) to Wilmington, meaning you'll have easy access to the culture and cuisine of the city.
The average homesites at the Bluffs are a full half-acre, and many of them are waterfront right on the river. There are brand new, move-in ready homes available, or you can work with one of their preferred builders to craft your own.
Cameron Woods
Ocean Isle
Single-family homes
Price Range: $293,000–$360,990
Amenities: Pool, fitness room, walking trails
With an easy drive to Wilmington or the bustling Myrtle Beach, Cameron Woods offers the best of both worlds. But the small town of Ocean Isle, where the development is situated, is beloved by families for its laid-back style and outdoor opportunities.
There are 11 unique home plans to choose from when building in Cameron Woods with features like screened-in porches and sunrooms that allow you to soak in the beauty of the coastal landscape. There are also quick move-in homes that will be available before the end of 2021.
Riverlights
Single-family homes, townhomes, and apartments
Price Range: $300s+
Amenities: Dining, shopping, lake house, pool, parks, boardwalk, trails
Riverlights is a city unto itself. Residents can shop and dine in Marina Village, have fun at the lake house and pool, or hang out at one of several parks. The diverse landscape—wetlands, tidal marshes, and wide open spaces—is well worth exploring, and residents do just that by foot (on miles of trails, including a boardwalk), kayak, and with dogs in tow. With beautifully planned parks, Riverlights is all about community, like gathering for oyster roasts or around fire pits.
With 14 models to choose from and a group of preferred builders, the hard part will be choosing which house feels most like home.
The Landing at Lewis Creek
Wilmington, NC
Single-family homes & townhomes
Price Range: $264,900–$282,900
Amenities: None
If you're looking for a neighborhood without all the bells and whistles, the Landing at Lewis Creek might be for you. While there aren't many la-di-da amenities, this newer development provides coastal lifestyle at an affordable price. With nine-foot ceilings, granite countertops, and water views, these homes are still chock-full of enviable upgrades.
When you're ready to get started, you'll pick a site, choose from one of the builders' six house plans, and pretty soon you'll be saying, "Home sweet home!
East & Mason
Wilmington, NC
Villa-style, alley-fed, and single-family homes
Price Range: $400s–$600s
Amenities: Clubhouse, pool, more TBA
Coming soon to the Masonboro Sound area of Wilmington is East & Mason. The new development will offer 170 new homes, all conveniently accessible to the region's best schools, shopping, and natural recreation.
They don't have homes available yet, but you can join their mailing list or keep in touch so that you can pick out your own parcel asap.
More Developments Coming Soon
If you're the kind of buyer who likes to plan ahead, consider these coming-soon developments. Plans have been approved for these new neighborhoods across Brunswick County. Altogether, they'll provide hundreds of new single-family homes.
Though the developers haven't shared the details yet, they're sure to offer sweet amenities like water views and easy access to Wilmington's pleasures.
Allston Park
Hickmans Crossing
Gore Tract
Coastal Haven
The Courtyards by Carrell
Timber Farms
Buying a Home in Wilmington with Dash
Next Steps
Get a leg up on your house hunting. Read up on the difference between pre-approval vs pre-qualification. That way you can quickly put in a credible offer when you find your dream home. 
Having a hard time finding a listing? Try these six non-traditional methods for finding a home BEFORE it hits the market.
When you've picked out your parcel or honed in on a new home, you'll need a mortgage company to help you navigate the homebuying process. With local expertise and one-on-one Mortgage Coaches, Dash Home Loans is your best bet for smooth sailing to a new Wilmington home. Especially because we offer the Dash Home Loan Guarantee, which promises once qualified, you'll close as expected, or we pay up.
Opinions expressed are solely my own and do not express the views of my employer. Information contained in this blog does not constitute legal, financial, or other professional advice or services and should not be used as a substitute for professional advice. The reader accepts full responsibility for the use of the information contained herein. PRMI is an Equal Housing Lender.