Can I Purchase a Home With No Down Payment?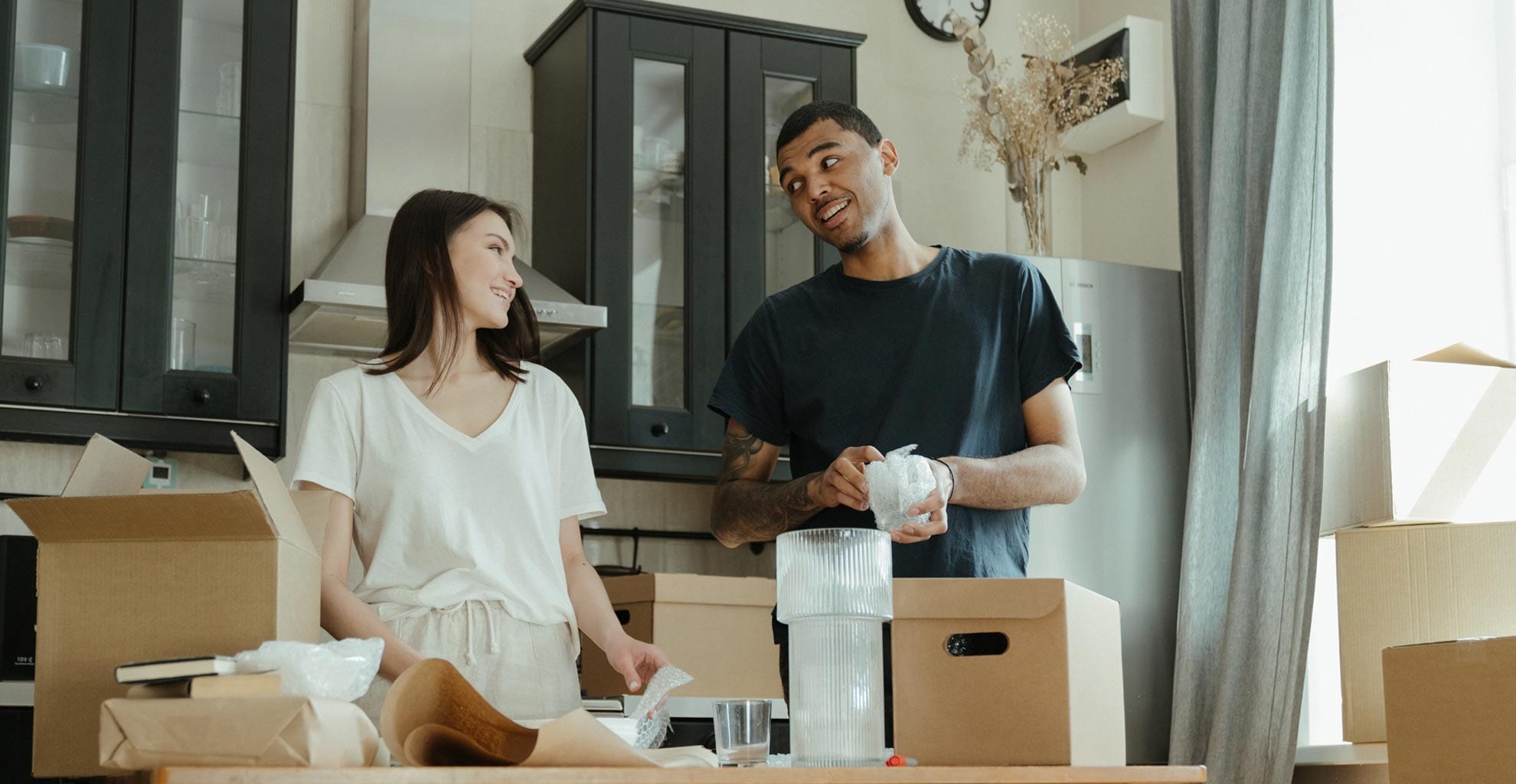 If you're planning to buy a house, saving for a down payment can feel like a carrot dangling from a string: luring you forward, but practically impossible to achieve.
Most home lenders require a down payment because it proves your financial strength and mitigates the risk that you won't pay your loan. But saving up enough dough for a downpayment requires a lot of scrimping over several years.
We get that it's intimidating, but it doesn't have to be—especially if you qualify for a zero-down mortgage.
---
Fast Facts About Zero-Down Mortgage
Zero-down mortgages don't require a down payment at closing*
Zero-down mortgages are government-backed loans
There are two options for zero-down loans: VA loans and USDA loans.
You need a credit score of 580 to qualify for a VA loan and 620 to qualify for a USDA loan
Zero-down mortgages have strict criteria for qualification, but there are also low money down options if you don't qualify.
---
What is a Zero-Down Mortgage?
When buying a new home, you can avoid a down payment with a zero-down mortgage, also known as a no-money-down home loan.
These loans are insured by the government, meaning the government's got your back and will foot the bill if you can no longer make your mortgage payments. With the government on your side, lenders are more willing to loan you the money to purchase your home.
There are just two types of these government-backed loans that don't require down payments: USDA loans and VA loans.
VA Loans
VA loans are zero-down mortgage options designed for veterans and active-duty service members that are financed by the Department of Veterans Affairs. (Think of it as a symbolic "Thank you for your service" from the government.) You might qualify for one of these loans if you're a veteran, active-duty service member or National Guard member, or the spouse of a deceased veteran.
The criteria for qualifying for a VA loan are super-specific. You have to:
Have a credit score of at least 580
Provide a certificate of eligibility (or even better, let Dash get it for you!) which proves that you have entitlement for zero-down
Use the home as your primary residence
And you have to meet at least one of the following criteria:
Served 90 consecutive days of active service during wartime
Served 181 consecutive days of active service during peacetime
Served for over 6 years in the National Guard or Reserves
Be the spouse of a service member who died in the line of duty or from a service-related disability
USDA Loans
Whereas VA loans are dependent on military service, USDA loans are all about location, location, location.
USDA loans are designed to spur development in rural and suburban areas. Not only do these loans not require a down payment, but they also offer lower fees than most mortgages.
There are actually two types of USDA loans: Single-Family Guarantee, which are offered by USDA-approved lenders (like us!); and Single-Family Housing Direct, which are offered through the rural development office.
There are specific requirements for USDA loans regarding both yourself and your future home. You must meet all of the following criteria:
The combined gross income of your household (not just people on the loan) can't exceed 115% of the median income of the county in which the house is located
Your debt-to-income ratio (how much money you spend on debt versus how much money you make) must be at 45% or lower
Your credit score must be at least 620
Your home must be in a qualifying rural or suburban area (the USDA has a handy map to help you check if your home is in an eligible area)
Your home has to be a single-family unit and you have to live in it as your primary residence
Your home can't be a working farm (sorry, homestead dreamers)
---
Pros & Cons of No-Down-Payment Loans
Pros
As with all homeownership, you'll be investing in the equity of your home, rather than paying rent
You can buy your home sooner because you don't have to save up for a hefty down payment, which can take years
You don't have to strip your savings account to make the down payment. (Trust us, you don't want to start homeownership with an empty bank balance—surprise expenses are bound to pop up and you want to be prepared!)
With a higher mortgage balance, you'll have more deductible mortgage interest on your taxes
Any extra money you make can go straight toward your mortgage or into an emergency savings account
Cons
The requirements for both zero-down loan options are really strict and you may not qualify, and it can require a lot of legwork to prove you do qualify
By beginning with a 100% balance on your loan, your monthly payment will be higher.
Your dream home might be out of reach since you won't qualify for as expensive of a home as you would with a down payment
If buyers with large down payments put in an offer on your house, their offer is more likely to be accepted
---
What About Low Money Down Mortgages?
If you don't qualify for a zero-down mortgage, don't worry, owning your home is still within reach. There are a number of low money down mortgage options that are low-cost alternatives to zero-down loans.
FHA Loans
Federal Housing Administration loans—aka FHA loans—are for folks with low to moderate income; they're designed to help level the playing field when it comes to buying houses and make them more accessible for everybody.
FHA loans can require as little as 3.5% down with a credit score of at least 580.
A quick side note: The downside to FHA loans is that you'll need to pay mortgage insurance the entire time you have the loan. Private mortgage insurance (PMI) protects your lender if you default on your loan. With conventional loans, you can cancel PMI once you hit 20% equity in your home, but with FHA loans, it's forever. The workaround? You can refinance to a conventional loan once you build 20% equity, which eliminates the need for mortgage insurance.
While FHA loans are more lenient than their zero-down counterparts, there are still criteria you'll have to meet to qualify:
You must use the house as your primary residence
The home has to meet livability standards
You have to move in within 60 days of closing
A debt-to-income ratio of less than 43%
You have to prove employment and steady income
A credit score of at least 580
Conventional Loans with PMI
Remember what we said about private mortgage insurance (PMI)? While it's not ideal, it can help you buy a house with little money down, even with a conventional loan. Even traditional lenders will finance loans for as little as 3% down if you provide PMI, and you can cancel PMI as soon as you have equity of 20% in your home.
The criteria for conventional loans are pretty simple:
A credit score of at least 620
A debt-to-income ratio below 43% (although it can be higher)
A down payment of 3% or more
Home Possible Loans with Freddie Mac & HomeReady Loans with Fannie Mae
The Federal Home Loan Mortgage Corporation, better known as Freddie Mac, and the Federal National Mortgage Association (Fannie Mae) are public government-sponsored enterprises. (It's complicated, but Freddie Mac and Fannie Mae basically pool mortgages and open them to investors on the open market.) Both of these entities offer low money down loans for people with low to median income. Bonus: They offer lower PMI rates, too.
Criteria for Home Possible or HomeReady loans are achievable for a lot of people. You'll need:
A credit score of at least 620.
You can't own any other residences across the country (though you don't have to be a first-time homeowner).
You have to attend homeownership education courses.
Your income has to be equal to or less than 80% of your county's median income. (It's worth not-ing that, unlike USDA loans, this only applies to the parties on the loan, not everyone in the household.)
---
Frequently Asked Questions About Zero-Down Loans
Can cash gifts be used as a down payment?
The short answer here is "yes." Whether it's a stack of wedding cash or a housewarming gift from Grandpa Joe, you can use cash gifts as a down payment. But (there's always a but), your lender will make sure any significant gifts are indeed gifts, not loans, so they'll want to verify any large deposits. Your lender will need a "gift letter" from the donor that includes their name, address, phone number, and relationship; dollar amount of the gift and the date it was transferred; a statement that they don't expect repayment; their signature; and the address of the property you're buying.
What credit score is needed to qualify for a no-money-down mortgage?
Most zero-down mortgages require credit scores of at least 620, sometimes 640. Not quite there yet? Keep paying your bills on time and keep the balances on your credit cards as low as possible, and you'll see your score begin to tick up.
How can I avoid PMI without 20% down?
You won't need that pesky PMI at all with a USDA or VA loan. If you don't qualify for either of these zero-down options, you can cancel your PMI once you reach 20% equity with a conventional loan. If you have an FHA loan, you can refinance to a conventional loan once you reach 20% equity to avoid PMI.
What kind of loans don't require a down payment?
The only zero-down loans are USDA or VA loans, both of which are backed by the government. VA loans are for service members, veterans, and their families only; USDA loans are for those living in suburban or rural areas.
---
Home Sweet Home is Within Reach
If you've held off on buying a home because the hurdle of saving for a down payment was just too stressful, think again. With so many options for zero or low-money-down loans, you can buy a home without breaking the bank, and Dash is here to help you do just that.
When it comes to finding out if you qualify for one of these loans with Dash, you have nothing to lose: zero commitment, zero fees. If you move forward, we'll partner you with one local mortgage coach to take you from pre-approval** to closing and make the whole home buying process a piece of cake. (We can celebrate your new home with a piece of cake, too.)
And if you don't qualify for either of these loans, there are still options for loans with low down payments, like conventional loans without PMI (more on that later), Home Possible Loans, and FHA loans.
Contact us today to find the right loan option for you!
Legal information
No Down Payment Disclaimer
*Closing costs and fees may still apply. 
**Pre-approvals are given to clients who have met qualifying approval criteria, and specific loan requirements, at the time of applications. Results may vary.
VA Disclaimer
VA home loan purchases have options for 0% down payment, No private mortgage Insurance requirements, competitive interest rates, with specific qualification requirements. VA Interest rate reduction loans (IRRRL) are only for Veterans who currently have a VA loan, current loan rate restrictions apply, and limits to recoupment of costs and fees apply. VA Cash-out Refinances are available for Veterans with or without current VA loans. Policies and guidelines may vary and are subject to the individual borrower(s) qualification. Program and Lender overlays apply.
Interest Only Disclaimer
With an interest-only mortgage payment, you will not pay down the loan's principal balance during the interest-only period. Once the interest-only period ends, your payments will significantly increase to pay back the loan's principal and interest. Rates are subject to increase over the life of the loan, which may result in payment increase.
Con un pago de hipoteca de interés solamente, no pagará el saldo de capital del préstamo durante el período de interés solamente. Una vez que finalice el período de interés solamente, sus pagos aumentarán significativamente para pagar el capital y los intereses del préstamo. Las tasas están sujetas a un aumento durante la vida del préstamo, lo que puede resultar en un aumento de los pagos.
Publication Disclaimer
Information contained in this article does not constitute legal, financial, or other professional advice or services and should not be used as a substitute for professional advice. The reader accepts full responsibility for the use of the information contained herein. PRMI is an Equal Housing Lender.